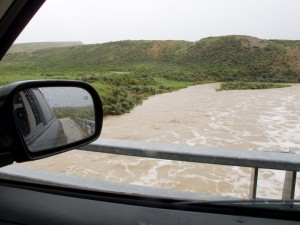 Since Texas Water Safari was postponed due to flooding I switched to plan B, packed my camera gear and Sea Wind canoe and drove to Wyoming instead of flying to Texas.
In my desperation I ignored weather forecast. My trip turned to be shorter than planned. In Wyoming I experienced heavy rains, thunderstorms, hail, strong wind, cold, and flooding. Nevertheless, I achieved my main goal – exploring the paddling access to Medicine Bow River Arm of the Seminoe Reservoir.
First, you need to drive to Hanna, a small mining town (hwy 72 from I-80). Then, there is about 25 miles of a dirt road – county road 291, and then a short narrow road to a boat ramp. This is a good gravel road traveled by RVs and boat trailers. Of course, after heavy rains driving conditions may be more challenging.
So, despite of rain and some water flowing across my road I reached the boat ramp in a pretty remote location. There were some people there, but they were hiding inside their campers. I took a short paddling upstream the Medicine Bow Arm of the reservoir. The wind was quite strong, but not so bad (actually good for training). However, when I got surrounded by thunderstorms with intense lightning I gave up and returned to my car.
I decided not to camp there – I was afraid that the road could get too muddy or washout during night, so I drove back to Hanna and I-80. Finally, I ended up for night at a motel in Rawlins. It was raining all night and till noon of the next day. When rain was stopping it was cold and windy. So, I stopped at Fort Steele to see the North Platte River, and then return home.
River flow: North Platte River at Dugway – 16,000cfs, Medicine Bow River as seen from the bridge above Seminoe Reservoir – 3000cfs.
I think that the Medicine Bow Arm can be a good alternative to the Seminoe State Park for paddling access. Driving is OK, parking and camping is free.
It should be possible to launch a kayak or canoe on the Medicine Bow River from a bridge on the 291 road. There is a similar measuring dam structure just above this bride as in Dugway on the North Platte. I am not sure if that river can be paddled further upstream under normal, not flooding conditions. It looks like that the next potential access would be near a town of Medicine Bow. The river is not mentioned in The Floater's Guide to Wyoming Rivers.
Some related posts:
Sun, Snow and Wind on the North Platte River in Wyoming
Bennett Peak to Pick Bridge on the North Platte River, Wyoming
North Platte River Kayak Racing – 2009 Wyoming Outback Challenge
44 Miles of the North Platte River in 2 Minutes
44 Miles on Big Water – 2008 Wyoming Outback Challenge Results
7 Landmarks and Highlights of the 2008 Wyoming Outback Challenge
2007 Wyoming Outback Challenge on North Platte River- Results and Pictures
3 Days on the North Platte River in Wyoming: from Treasure Island to Fort Steele
Wyoming Outback Challenge on the North Platte River – Strong Current and Head Wind
North Platte River in Wyoming – Eagle Nest Rapid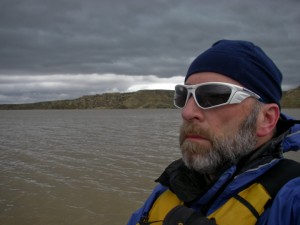 Other resources:
The Floater's Guide to Wyoming Rivers: Paddle and Portage
Wyoming Atlas & Gazettee
map of public access areas by Wyoming Game and Fish Department
North Platte River flow: Northgate, CO | Ft Steele/Dugway
Wyoming Introduces Fee for Paddling and Boating

paddling with a camera