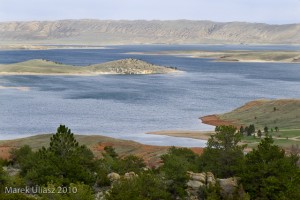 Since Wyoming Outback Challenge (annual 44 miles paddling race) is gone, we decided to make a longer training run on the North Platte River this year (May 22-23). We means me with Pixel, Rob Bean and two Kruger canoes.
On Friday, May 21 we run a shuttle between Seminoe State Park and Bennett Peak campground which we reached at sunset after a stop at Saratoga. Saturday was a full day of paddling starting around 7:00 am and stopping for a night 12+ hours later between Dugway and the Seminoe Reservoir. On Sunday, we paddled the last few miles of the river and then a lake to the North Red Hills campground and boat ramp. We finished paddling around 4 pm, took a look at the dam, drove to Saratoga for a dinner, and recovered our second car from the Bennett Peak campground at sunset. The Snowy Range road was still closed, so we returned to Fort Collins through Walden and Cameron Pass.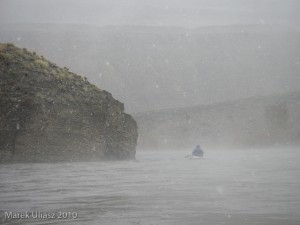 We experienced every possible weather Wyoming can offer: a very warm night and morning at the Bennett Peak campground, winter conditions (rain, snow, wind) during the second half of out first day, chilly night in tents covered by frost, sunny second day: calm and turning windy in the afternoon.
Wildlife: one moose, plenty of deer, proghorns, bald eagles, pelicans, and a lot of other birds.
I covered almost the entire course of our trip before, but in shorter separate segments paddled at different times. I didn't paddle before the river from Dugway to the middle of the Seminoe Reservoir (Sand Mountain). I visited the Seminoe Reservoir only once years ago. It was in August of 2000 with my CLC Patuxent kayak: there is still a short report from that trip at Mountain Wayfarer. It looks really ancient …
GPS odometer: 114.5 miles, 16:58 hours of moving time, 3:34 stopping time (not counting our overnight camping), 6.7 mph average moving speed, 11.7 mph max speed.
River flow: 7000-8000 cfs at Dugway above Seminoe Reservoir, the reservoir was filled to 70% of full capacity.
The above slide show is a new setup created with Adobe Lightroom 2 and SlideShowPro. Recently, I am using Lightroom to manage all my pictures both paddling and stock images. I created slide shows with Lightroom before (see, e.g., Colorado River Race or Dismal River 2009). However, this time I used also SlideShowPro which adds more functionality. Please let me know how do you like it, and whether you had any problem watching it. I am going to post more slide shows in a similar format.
Most pictures were shot with waterproof Pentax Optio W30, a few with Canon 5D/II (camping), and Canon PowerShot G11 (the Seminoe Reservoir and Dam).
Rob posted his pictures from the trip on facebook.
Some related posts:
Bennett Peak to Pick Bridge on the North Platte River, Wyoming
North Platte River Kayak Racing – 2009 Wyoming Outback Challenge
44 Miles of the North Platte River in 2 Minutes
44 Miles on Big Water - 2008 Wyoming Outback Challenge Results
7 Landmarks and Highlights of the 2008 Wyoming Outback Challenge
2007 Wyoming Outback Challenge on North Platte River- Results and Pictures
3 Days on the North Platte River in Wyoming: from Treasure Island to Fort Steele
Wyoming Outback Challenge on the North Platte River - Strong Current and Head Wind
North Platte River in Wyoming - Eagle Nest Rapid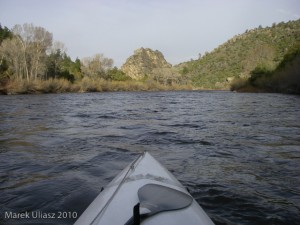 Other resources:
The Floater's Guide to Wyoming Rivers: Paddle and Portage
Wyoming Atlas & Gazettee
map of public access areas by Wyoming Game and Fish Department
North Platte River flow: Northgate, CO | Ft Steele/Dugway
Wyoming Introduces Fee for Paddling and Boating

paddling with a camera